The Lifespan of a Window and Door- What You Should Consider When Looking At Windows & Doors
August 12, 2021
Windows aren't always high on the list of researched products when it comes to building homes, the main consideration tends to be price. People know they need windows and doors and they consider how big they want them, and how many they want in each room, but they usually don't think about installation or materials or which option would be best suited for their climate. That job is usually left to the builder to decide which windows will work for the home.
A question that is often neglected is 'how long should windows and doors last?'. When you are building new, you aren't thinking about when you will have to replace anything. Luckily, at Access Window and Door Design Centre, we've considered this with every window and door that we build. We believe that windows should last a minimum of 50 years, and ensure our designs live up to that expectation. A lot of effort goes into air proofing and water proofing and all the internal workings of our products but the most important part of windows in installation. If they are not installed properly, even the best windows will need to be replaced after a decade.
New Builds Vs. Replacements.
An ideal installation situation would be in a new build; before the exterior finishings are added onto the house. This allows for a much easier working area for installation crews. A window has the most jobs of any material on a house so proper installation is key to a quality window.
In our experience, window replacements are rarely done right. Think for example, if you are replacing a window in a home with stucco. You would have to cut the stucco in order to install the new window. In doing so, the blade you are using will most likely cut into the house wrap which is used as a moisture barrier, protecting the home from the elements. Once the wrap has been sliced, the common fix is to us caulking to seal it up. The problem with this is that caulk isn't designed to last forever. After a few years the seal will start to lift or crack and you'll be subject to moisture damage, that you may not even know about.
A common practice for replacements windows is the use of a brickmould, which is an exterior trim that frames the window. It's used to fill the gap between the window and the exterior surface of the home. While, this looks good aesthetically, it's an extra piece of extrusion that is now subject to expansion and contraction at different rates than the window profiles, every time the climate changes. This will inevitably cause gaps and allow water and moisture to enter in between the brickmould and the window, which will cause unseen damage to your home. Once the moisture settles, mold sets in which will cause structural deficiencies as well as serious issues to the air quality inside your home.
We have included an image below of a wall that we opened within a few years of some replacement window being installed with a brickmould. This is what we found. Needless to say, our customer could not believe his eyes and was shocked at what he saw.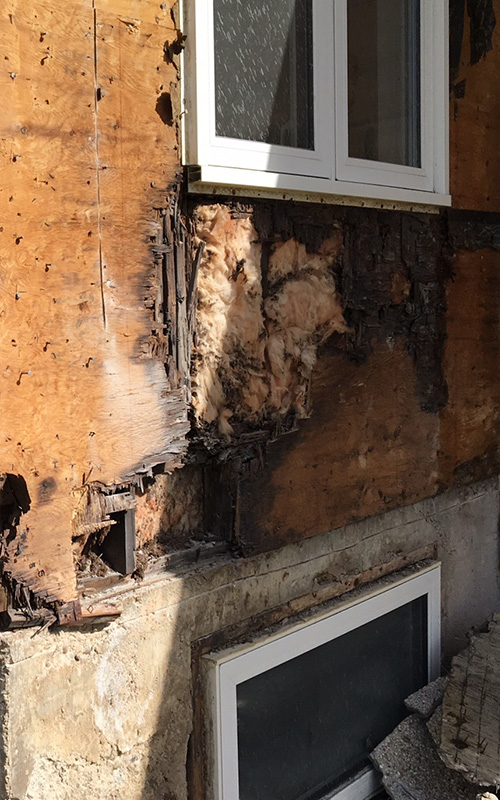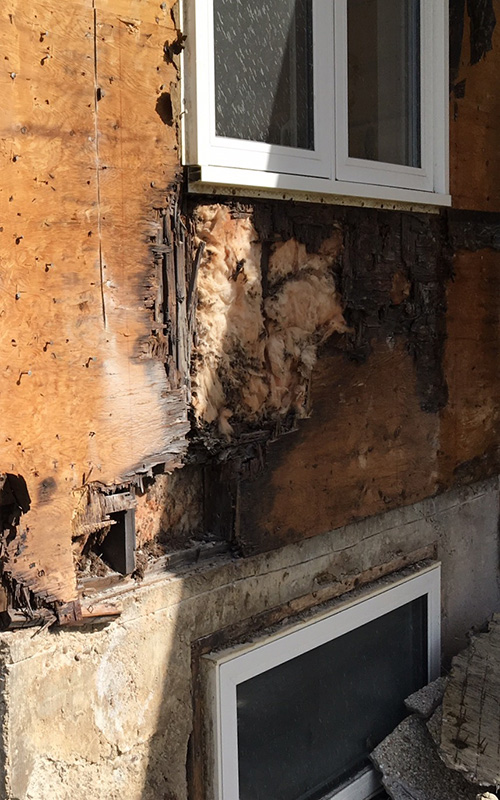 Not all Windows are Created Equal
There are a lot of options out there for windows and doors and the process of picking the right ones can be a little overwhelming. Wood, Aluminum, Fibreglass, PVC – how do you choose? While all of these have their place, they should not be used universally for all locations or climates. At Access Window and Door Design Centre, we've taken the guess work out of window shopping and designed the perfect solution for any climate.
Our designs utilize Rehau profiles, and a material called RAU-FIPRO; which boast modern technology, flexible designs and superior thermal insulation. Rehau innovated the extrusion process when they combined all of the benefits and structural characteristics from fibreglass and PVC profiles, while eliminating the disadvantages of both, creating a superior product that will outlast any other window on the market.
The RAU-FIPRO material uses a uPVC coating which has allowed the corners to be weldable, while the core uses an evolution of fibreglass for structural strength. Having the corners welded eliminates the risk of joints opening up during expansion and contraction and therefore providing a reliable seal for the full lifetime of the windows & doors. The results show that our product is stronger and will outlast nearly all competing windows & doors, regardless of the climate or temperature changes.
However, it's not just the materials that make the Access products superior, it's the thought that went into them. The engineering, manufacturing process, testing and planning that we do for all of our products has helped us to ensure our products are made to last.
Feel free to read our blog called "High Quality North American Windows vs. Imports – Is there really a difference?" for more information.
When you buy from Access Window and Door Design Centre you can be sure your windows and doors will last a minimum of 50 years! It's important to remember the number of jobs your windows and doors do for you on a daily basis and that doing your research before your purchase, is your best defence against having to replace your windows after only 20 years or less. We'd love to talk to you about your window and door needs. Contact us today to get started.
Back