How do you know you are choosing the right performance Exterior Door for your home?
June 15, 2021
Choosing the right exterior doors for your home requires more thought than many anticipate. A lot of homeowners start with deciding what they want the doors to look like; windows, colour, size etc., and don't put much thought into materials, construction or the technology that goes into creating the doors. Not all exterior doors are created equal and at Access Window and Door Design Centre, we build doors that can withstand the elements of any location. We consider all of the factors so you don't have to and you can feel confident in your choice of exterior doors.
Changing the Mindset
It used to be that an exterior door was the least researched element/component you could buy for the exterior design of your home, so not a lot of time or effort was put into picking out a door. It was this mindset that dictated how doors were designed in North America, almost as an afterthought. Door slabs would come from distributors, who would buy them from an importer, who would ship them by the container loads from Asia. They would then source the frame from somewhere else, the sill from another place, and hinges from another. The door hardware was left up to the customer to "customize" by going to their local hardware store and choosing their own. If the door required glass, it would be sourced from companies that focus only on inserts.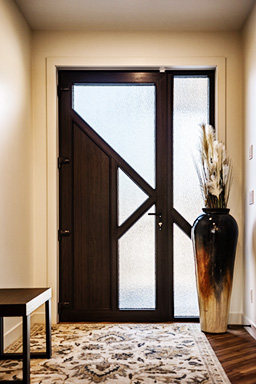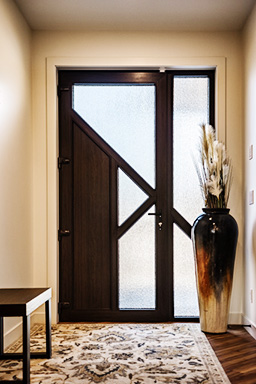 The inserts provided often would claim to be triple-pane windows but only boasted a thickness of 1 inch (25mm). To qualify as a triple-pane window you would need 34mm as an absolute minimum to achieve a bit of performance; 3mm panes with 1/2" in between each pane. Often these requirements were ignored by the manufacturers. This meant many doors being manufactured in North America were not meeting the needs of their customers and the climate they were living in.
It is the mission of Access Window and Door Design Centre to change the way people think about windows and doors for their homes. We have always built our products with the elements in mind. Being located in Southern Manitoba, has set the standard for extreme weather changes with some of the most dramatic changes in temperatures you can find. The temperatures can reach +35 C (95 F) in the summer to -35 C (-31 F) in the winter. Regardless of season, your exterior doors need to hold up and we have designed the perfect products that are not only beautiful but durable and reliable as well.
Not all Materials Are Created Equal
European companies were the first to adopt PVC extrusion as a material for windows and doors around 60 to 70 years ago. European climates didn't have to deal with the severe expansion and contraction that comes with extreme temperature fluctuations. 30 years later North American companies began to take notice and attempted to adopt the same principles using cheaper materials to offer lower price points for their customers. The first attempt at duplicating the process was not a success, as the plastic fillers that had been used began to separate from the PVC.
Unplastisized PVC or uPVC was adapted to create a better and more durable product. Today, uPVC windows are the most commonly sold windows in the world. The downside to these materials is they expand and contract more than any other window and door frame materials. To prevent the expansion and contraction a lot of companies use steel reinforcement which is only a short-term fix in climate zones which have big temperature swings. uPVC profiles have an almost 3 times higher expansion coefficient then the Access window and door profiles. Our product is made of a material that is an evolution of the traditional fibreglass product with a very limited expansion and contraction.
Adopting New Standards
In 2008, stricter guidelines for North American window and door fabrications were put in place with introduction of the North American Fenestration Standard (NAFS). Performance Grade (PG) tests would now be standard for all windows and doors manufactured in North America. This meant the product must pass all performance tests for operating force, air leakage resistance, water penetration resistance, uniform load deflection tests, uniform load structural tests, and forced-entry resistance in addition to required durability tests.
Due to the materials and components used on our doors we easily achieve up to 80% higher ratings on all key performance indicators when comparing our XL doors to the traditional, standard-sized doors on the market.
Exterior Doors are the most used external feature of your house, yet it is the one item that gets the least amount of thought when designing a home. You use your door every day – multiple times a day, and it should act as not only an entrance but as a weather barrier, and security system to keep you and your family safe. All exterior doors from Access Window and Door Design Centre are customize for your home. From environment to aesthetic, your doors will be exactly what you need them to be. Contact us today to start designing the perfect entrance to your home.
Back